Craft beer tradition in your city
We are looking for fellow travellers and partners in business. They have to be chosen with care and have to be supported in every step of development of the project. We provide them with all the instruments to grow together with our brand. Doppio Malto is our #postofelice, our happy place, and it could become yours too!
Doppio Malto is a place where to discover good beer, stay together, eat good food, enjoy one last sip before playing some snooker, enjoying your time and relaxing. Our venues are designed to host any kind of attendance in any given moment: from businessman coming for lunch to groups of friends going for an aperitif or dinner, up to all those late night guests that want to enjoy a good beer or listen to live music.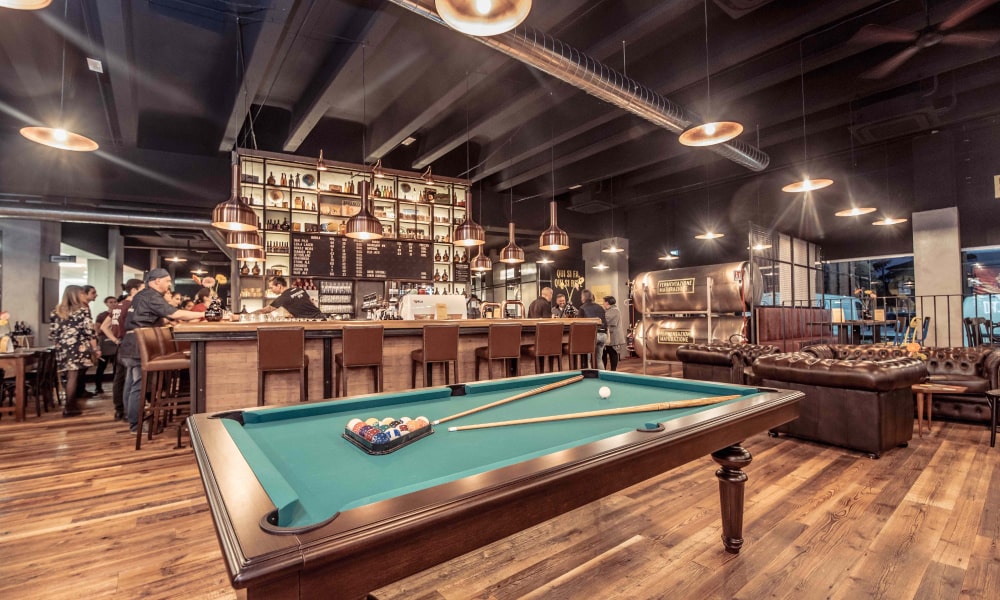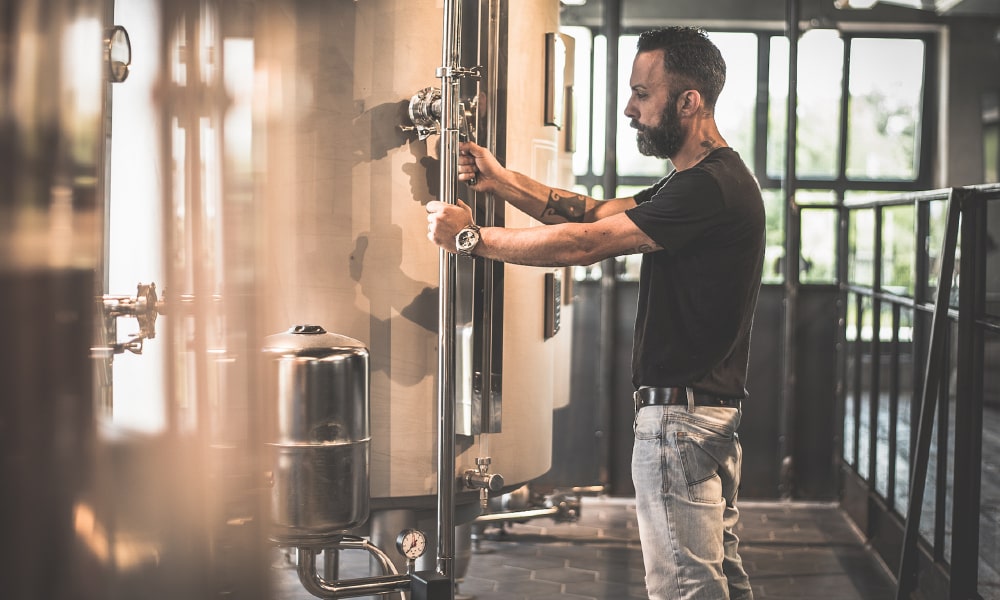 The new brewery in the heart of Sardinia
Doppio Malto restaurants represent an innovative distribution model and a mean to widespread the popularity of craft beer produced in Erba. Productions operations are needed to increase volumes and meet the market demands. As a result of the strong know-how of the historic Erba brewery, the project for the new production plant in Sardinia has been realized. Powered by solar panels and a sustainable design, Doppio Malto brewery in Sardinia join the production site in Erba. The new plant is concentrated on the productions of labels already traded and it enables to boost the volumes by 400 percent.
Our brand's very own manufacturing DNA reflects in our venues layout. In our venues there are many references to the industrial and brewery world: the beer counter is open, we have open kitchens, the prevailing materials are industrial concrete, aged iron, copper, wood and bricks. Every Doppio Malto has a unique and distinctive style, showing recreational and entertainment areas, for young and children as well.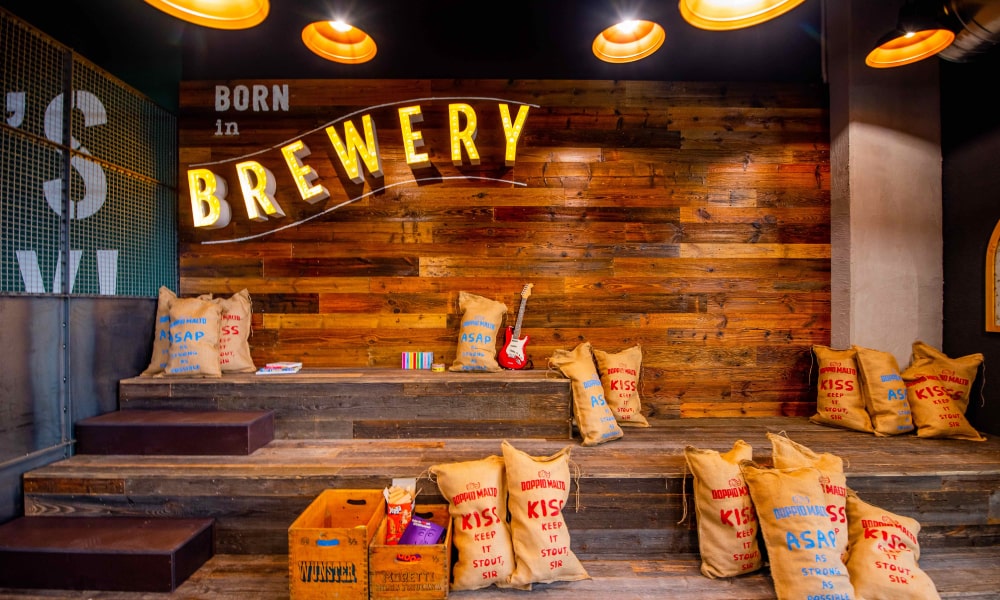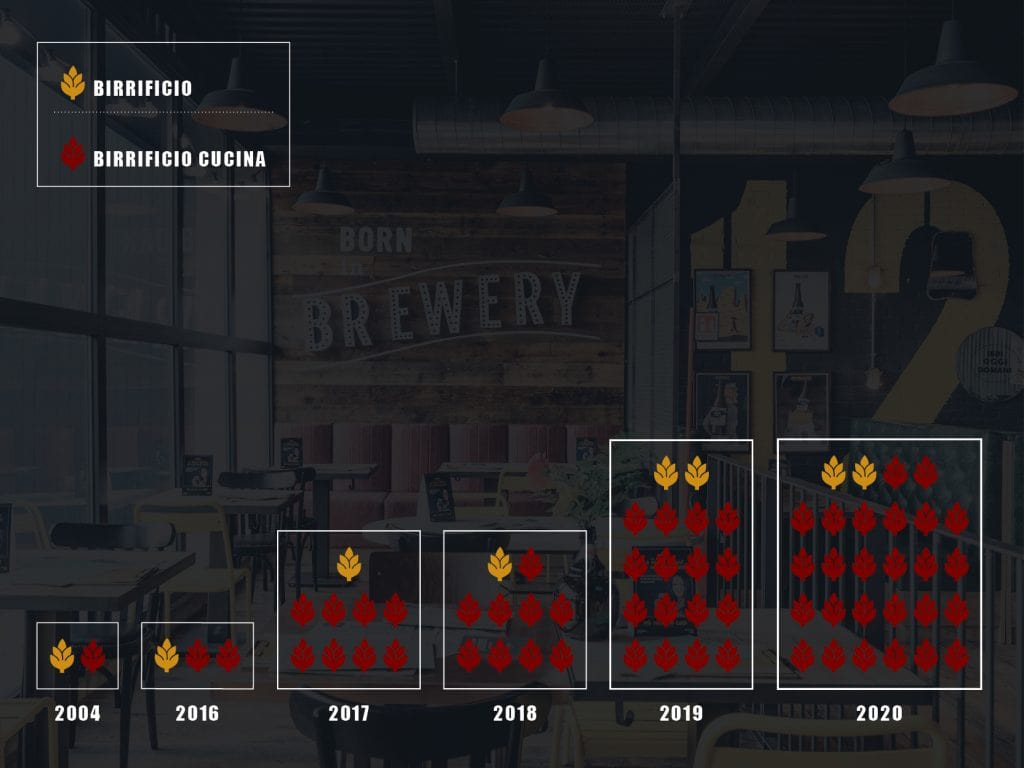 From production to retail
Our history starts with our Brewery located in Erba. The original formula evolves over the years without any changes and distortion. From 2016, Doppio Malto begins to evolve through the opening of dozens of restaurants throughout Italy. In addition to the updated to contemporary trends and appealing food offer, it remains the award-winning craft beer that has made Doppio Malto one of Europe's leading players in the brewing sector. Along the years, it raised the necessity to increase production volumes to support the stores development, representing the new and important chapter of the brand, through the construction of a production center in Sardinia, in the name of sustainability and environment.
2004: Doppio Malto brewery was born in Erba (Como)
2016: Business development in Italy starts, with the opening in the Scalo Milano outlet & more's food court close to the city
2017: The first franchise store opens in Verona
2020 Doppio Malto opens its first store abroad in Saint-Etienne, France
liters of beer brewed in 2019 (3.500 pints a day)
million average turnover for our retailers
scheduled openings for 2021
Apply to open your Doppio Malto!
Click to apply to open your Doppio Malto